Profile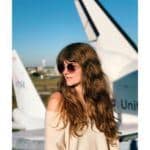 Rosanna Tilbrook
For any of you who are seriously interested in learning about space and astronomy at University- check out this summer camp in Portugal! I wish I'd known about it when I was your age! Copy this link into your browser: socsi.in/oXyfe
Curriculum Vitae
Education:

The University of Sheffield (2014-2018), The University of Leicester (2018-present)

Qualifications:

MPhys Physics and Astrophysics

Work History:

Summer research student at the University of Sheffield 2016, SUPER summer school teaching demonstrator 2015 and 2017

Current Job:

PhD Student

Employer:

The University of Leicester
Favourite thing to do in my job: Getting to meet other astronomers from around the world

About Me

PhD student at the University of Leicester

Read more

I'm a PhD student at the University of Leicester, although I'm originally from Suffolk. I lived in the USA as a kid and got to see a lot of the country which has given me a love for travelling ✈️ I also love cats (I have two) and Italian food!

My Work

Looking for new planets in our galaxy by watching them pass around their star ✨

Read more

Our planet, Earth, and all of the other planets in our Solar System orbit around our star, the Sun. I look for planets around other stars (which are known as exoplanets) using something called the transit method. This is where we monitor stars for tiny dips in brightness that indicate something small and dark has passed in front of them- a planet!

By looking at how deep the dip is, we can work out how large the planet is. This is because when we have a big planet, it will block out more of the light from the star it orbits. We find a lot of planets that are about the size of Jupiter which whizz around their stars in only a few days, and we call these 'Hot Jupiters'. However, we're really interested in finding smaller planets around these distant stars- maybe even ones like Earth!

The scientific group that I am a part of is called NGTS, which is the name of a telescope in Chile which monitors thousands of stars for these tiny dips. Our goal is to find planets that are smaller than Neptune, and maybe a few that are very slightly larger than the Earth. This is exciting because finding planets that are similar to ours gets us one step closer to understanding life in the Universe! 👽

My Typical Day

Searching for signals from distant planets, meeting with other astronomers, and drinking lots of tea!

Read more

You can normally find me in my office surrounded by notebooks, photos, plants and my plushie planets.

In a typical day I'll look at the most recent data I've taken from the telescope we use in South Africa, and work with it to see if we've captured any kind of signal that indicates we've seen a planet around a distant star.

I might then talk to my supervisor about my results, or mention them on an online meeting with our collaborators from around the world.

I may have teaching in the afternoon, where I demonstrate lab experiments to undergraduate Physics students. Or, we will listen to a talk from a visiting astronomer and meet them for questions and career advice afterwards. And then of course, I always stop for tea and biscuits at 4pm with the other PhD students and researchers in my group!

---

If I'm on an observing run in South Africa, then my days are very different. I'll wake up and have breakfast around 1pm, before doing a bit of work in the day and heading for lunch at 6pm. Meal times at the observatory are fun because you get to chat to people from lots of different countries who are using the other telescopes at the site for all kinds of interesting astronomy! After lunch, I'll go up to my telescope around 7pm with a toastie and snacks for the night. If the weather is good, I'll be taking data all night (and watching a bit of Netflix) before finally hitting the hay around 5:30 in the morning! The amount of time I work for depends on how long the nights are- July in South Africa is tough, because the nights can be 12 hours long and freezing (it's winter in the Southern Hemisphere), but it's all worth it if it leads to a new discovery.

What I'd do with the prize money

A Women in Space event, aimed at high school and A level students

Read more

I'm really passionate about diversity and inclusion in STEM subjects, specifically Physics/ Astronomy as that's my area. Girls studying Physics at undergraduate level are out numbered by boys 5 to 1, and things only get worse as you scale the ranks in academia. Therefore I'd like to run a Women in Space event, aimed at high school and A Level students, where pupils can interact with and learn from women who have chosen career paths in science. I'm a part of UKSEDS (UK Students for the Exploration and Development of Space), who are regularly involved in conferences and outreach events, so I'd be able to find speakers and support from them.

My Interview

How would you describe yourself in 3 words?

Friendly, silly, kind

What or who inspired you to follow your career?

I've always been fascinated by space, but I started to think seriously about studying it at University when I went to a Brian Cox show when I was about 14.

What was your favourite subject at school?

Physics or biology

What did you want to be after you left school?

An astronomer!

Were you ever in trouble at school?

Nope, not really 😇

If you weren't doing this job, what would you choose instead?

Probably a science journalist!

Who is your favourite singer or band?

A tough question, but at the minute, probably Don Broco

What's your favourite food?

Spagetti carbonara

What is the most fun thing you've done?

White water rafting in the USA 🛶

If you had 3 wishes for yourself what would they be? - be honest!

To find life elsewhere in the universe, to walk on Mars, and to be able to produce chocolate cake by just snapping my fingers

Tell us a joke.

Never trust maths teachers who use graph paper. They're always plotting something.
---
---
---