Profile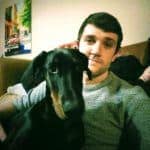 Matthew Selwood
Curriculum Vitae
Education:

University of York (PhD, currrently here), University of Bristol (MSci), John Hampden Grammar School

Qualifications:

MSci in Chemical Physics with Industrial Experience, A levels in Chemistry, Physics, Maths, AS in Music and Music Technology, Extended Project Qualification on String Theory

Work History:

Link Scientist at the Central Laser Facility

Current Job:

PhD student at the University of York Plasma Institute

Employer:

University of York
Favourite thing to do in my job: Shoot things with lasers!

About Me

Laser shooting, role play gaming, squash playing physics nerd

Read more

I was brought up "down South", near London and Oxford.  I have 2 sisters – 1 older and 1 younger – so I am very rarely allowed to be right when we debate things at home!  Hence I tend to stay out of the debates, and instead try to pin our family dog Reuben down for a cuddle, occasionally with the promise of food if he is being particularly uncooperative…

I am adjusting to life as an Uncle for the first time, which has certainly made family gatherings a lot more sleep deprived!  I am Roman Catholic, which people are often surprised about when they find out I am scientist, but I strongly believe the two can co-exist and aren't contradictory.

I did my undergraduate degree in Bristol, which is an awesome city and I cannot recommend visiting there enough.  I did a placement year in a laser lab in Oxfordshire, so lived near Oxford, and I am now doing my PhD at the University of York… I am not sure where else in the country I can live now that will be better than any of those three places!  Suggestions always welcome.  Perhaps London?

In my spare time I play a lot of role play games, much to the dismay of my sisters who do not think it is "cool".  Besides that, the rest of my non-work time is spent playing squash for my university team; I used to play jazz Sax in a band, but there just isn't enough time in the week any more, and I enjoy squash and lazing around playing computer games too much to give either of those up!

I also really enjoy traveling, although I am yet to meet someone who doesn't.  A student budget doesn't stretch too far, so unfortunately the travel doesn't get too exotic, but I do sign up for conferences around the world and use that as a cheeky excuse to visit a new country!  A lot of my travel is to Poland to visit my partner, and she will (hopefully, Brexit permitting!) be moving over here permanently to join me in the Summer!! I cannot wait.

My Work

I am making a new camera that can see through walls, detect contraband, and even see inside of nuclear explosions!

Read more

I am working on a system called "coded apertures", and trying to make them on a teeny tiny scale (1 micron, or 0.001mm).  An "aperture" is a piece of material with a hole in it, that projects an image, much like the candle image above.  You may have seen these when looking at the Solar Eclipse, and it is also how your normal digital camera works too.

To see smaller features on smaller things, you need to make the hole smaller.  This is all well and good, but when you make a smaller hole, then less light will get through, because it is smaller!  When trying to look at really small features (for me, micron features), the single hole would be so small that barely any light would get through, and you wouldn't be able to see anything on the inside of the box.

So, rather than a single pinhole, I am trying to use a large amount of pinholes, and then using a mathematical algorithm to "decode" the light detected, and show a picture of the object.  The idea is that the "resolution", or smallest thing that the camera can see, is proportional to the size of the smallest hole.  However, by having more pinholes, you get more light through, so you can still see the thing you want to look at!

It was originally done by astro-physicists in the 1980's to look at the stars in the sky.  Stars are pretty big, and in the sky look like a very and bright small point.  So the original apertures were only designed to try and look at 1, 2 or possibly 3 single bright spots against a very black background.  I am trying to make a new aperture that is specifically made to look at objects, rather than single points.

The other issue I face is that, when using a laser to make x-rays, the x-rays are very "hard".  What that means is, they are able to go through a lot of stuff.  A piece of paper?  No problem.  A bone in your arm?  Yep, easy peasy.  A piece of metal?  Sure thing.  It takes nearly 100cm of lead to stop most of the x-rays.   Now, imagine trying to use a digital camera, if there was 100cm long piece of lead in there.  It's not going to work, is it.  It also will be incredibly hard to use, and kind of pointless!  So I am working on ways to reduce the thickness of the aperture down to something a little more usable, using the properties of the "decoding" algorithms and the fact that most metal will scatter the x-rays, even if it only by less than 1 degree.

Imaging hard x-rays would be very useful though, because they go through so much stuff!  Suddenly, having a huge metal box around the thing you want to see is much less of a problem.  So if you want to look inside of a freight container to find illegal stuff, you could combine my camera with some nifty Chemistry and image where everything is, and what it is made of, without having to open the box!  Ditto for looking inside of a fusion reaction – the x-rays produced wouldn't be affected by all the annoying things going on at the edge that normally block all view, so one could understand far more about what is going on.

My Typical Day

Either coding simulations, or running around a lab vapourising metal with a kick ass laser

Read more

At the Office

This is all gearing up for the next experiment, or analysing data from the previous one.  As I am making a new camera design, there are a lot of things that can go wrong and do go wrong!  I am currently designing the first "version", and testing it out in a virtual environment (some code I have written, and a separate simulation toolkit)  to hopefully find some of the issues before I make one to test in the real world.

The advantage of this is also that I will have results that show my design is better than the existing cameras, or at least better at the very specific thing I am designing it for!  Then I have more certainty when I say it will work, and can then go to companies and the government to ask for funding to make it with more to say than just "Well *I* think it is a cool idea!".

Although it sounds glamorous, a lot of it boils down to sitting staring at a computer screen, trying to figure out why my code isn't producing the picture of a Space Invader that I told it to, and is instead showing no picture and typing a solitary "7" for unknown reasons!

On Experiment

Now this is the really cool part.  Going to a Laser facility and working on an experiment!!  Most of my experiments are currently at the Central Laser Facility, at the Rutherford Appleton Laboratories in Oxfordshire.  Really cool place for science, I'd recommend looking it up if you like lasers, or think cyclotrons or Neutron beams sounds interesting.  I tend to use two different lasers there: Vulcan, and Gemini.  These lasers are HUGE (about 1-2 Olympic sized swimming pools worth of equipment each), and have staff dedicated to running them and making sure they work.  We go there to do a specific experiment, working with other universities from around the UK, and sometimes internationally too.

We only have a finite time to do these experiments, so it is all hands on deck.  Typically working in the lab from 9am to 10pm on a good day, and 9am till 2am the following morning on a bad one.  We get weekends off though, so we all drink unholy volumes of coffee in the week and sleep all weekend.

There is always a lot to do on experiments, from aligning diagnostics (the way we figure out what science is going on when the laser hits what we want it to) to making sure the laser hits the target at all, and at the right time!  The lasers are often Infra-Red, which makes it rather more difficult to align them when you can't see it!  Once it is all up and running, targets still need aligning between different shots, and often diagnostics stop working or don't work the way we want them to, so there is a lot of troubleshooting to do in between time.

What I'd do with the prize money

Make a "white board" animated video about Nuclear Fusion, why we absolutely need it, and how it is different from other nuclear power

Read more

Although I do imaging work, I am paid for by a grant that is looking to create Fusion Energy, as a renewable source of energy for the future.  My imaging system will hopefully help with laser driven fusion experiments, solve some of the implementation issues and make it viable for use.

The word "nuclear" has some pretty bad connotations; your grandparents will probably associate it with the two bombs dropped on Japan in WWII, your parents will probably associate it with the Chernobyl disaster, and you yourselves may associate it with devastating bombs in video games, or the USA – North Korea stand off.  Little fun fact, but have you ever heard of an MRI machine in hospitals?  They were originally called NMR machines, as they work via a process called "Nuclear Magnetic Resonance", but Americans refused to get in them because they have the word "nuclear" in the name – so they just changed the name!

Well, Nuclear Fusion is not all bad.  In fact, it is probably one of the most viable sources of continual clean energy, to try and move our planet away from fossil fuels.  The only bi-product of the reaction is water, so no nasty luminous green nuclear waste to dispose of.  If something goes wrong, and all the safety measures fail, the reaction won't "run away" and cause an explosion like Chernobyl – instead the gas fuel will just dissipate and the reaction stops, so it is much safer too.  Unlike Uranium, which is difficult to come by (which is quite an understatement), fusion energy for 1 person's life time could be created from 1 bathtub full of sea water (for the Deuterium and Tritium) and a single laptop battery (for the Lithium).  There is a lot of sea water in the world, and a lot of laptops too!

Nuclear Fusion has a bad reputation, and it needs to change if we are going to help solve the world's energy crisis.  I would like to make a short animated video, in order to reach as many people around the country as possible.  Then, those who are interested by it can contact my university and our Outreach department can send some people over to do more talks and awesome demonstrations.  We even have a model Lego Tokamak (a machine to do fusion in) and everything!  Though personally, I don't like Tokamak's, as they don't use enough lasers.  Maybe I should build a Lego model of a laser-driven fusion reactor too…

Shameless plug for an awesome podcast about Fusion Energy by some colleagues of mine.  I was meant to be on the laser episode, but work got in the way… Hopefully I will be on there soon!

My Interview

How would you describe yourself in 3 words?

Definitely Not Evil...!

What or who inspired you to follow your career?

My industrial placement at the Central Laser Facility, although my A level Physics teacher deserves an honourable mention for enthusing me about Physics outside of school in the first place

What was your favourite subject at school?

Chemistry, but Music was a very close second!

What did you want to be after you left school?

Chemical Engineer, although if you asked me aged 7 it would have been to be the driver of the train at LegoLand... I had such high aspirations!

Were you ever in trouble at school?

Not often, I was too busy playing in school Jazz bands for that!

If you weren't doing this job, what would you choose instead?

Research Chemist for a drugs company, most likely

Who is your favourite singer or band?

Foo Fighters \m/

What's your favourite food?

Anything with lashings of cheese... Pizza is always a good shout

What is the most fun thing you've done?

Gone swimming with penguins in the Galapagos

If you had 3 wishes for yourself what would they be? - be honest!

To be able to teleport, to be able to communicate with dogs, and never to have to do boring email admin ever again!

Tell us a joke.

A farmer counted 297 cows in the field, but when he rounded them up, he had 300.
---
---