Profile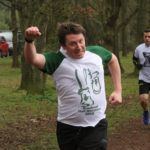 Dan Porter
Curriculum Vitae
Education:

Liverpool University (degree), Royal Holloway University of London (PhD)

Qualifications:

MPhys (1st) from Liverpool, PhD from University of London

Work History:

Several years as a kitchen porter in a pub, a summer washing Land Rovers, a summer as bar staff, a few months selling cameras in Jessops, a couple of years as a trainee officer in the army, 7 years as a postdoc

Current Job:

Beamline Scientist

Employer:

Diamond Light Source is a national science facility in Harwell, just South of Oxford. It is a large doughnut shaped building and inside is a large electron accelerating synchrotron which produces very bright light at lots of different wavelengths – from ultraviolet to high energy x-rays. This light is used by scientists to perform all sorts of experiments, from solving problems  in fundamental physics to testing materials for jet engines to developing better cures for diseases and much, much more!

As a user facility, scientists from all over the world apply to come here and spend a short amount of time here, from a few hours to a few very intensive days. The application process is very tough and only the best proposals get time on one of the instruments.

The people who work at Diamond come from all over the world and have a huge range of backgrounds – scientists perform experiments, engineers build new equipment, programmers develop analysis software and that's not counting all the staff responsible for organising visiting scientists, maintaining the buildings, attracting grant funding and communicating with the public!

The best things about working at Diamond are the range of interesting people you meet and work with, plus the cutting edge technology you get to work with and develop.

My connections to STFC science and technology:

I work at Diamond Light Source - an STFC funded science facility
Favourite thing to do in my job: Work with a wide range of interesting people from all over the world.

About Me

Physicist who shines light on magnets

Read more

I'm originally from the Kendal in the Lake District, but now I live in the South and work as a Beamline Scientist at Diamond Light Source. I enjoy a good challenge which is why I love climbing mountains and running, and is also why I studied physics at university!

My favourite films and books are Sci-Fi, espesially anything by Arthur C. Clarke. I've always enjoyed programming and I'm just getting into robotics – yes, that's right, I am and always will be a geek!

I live with my wife, Susan, who is an archaeologist, motorcycle enthusiast and author of some awesome historical adventure books. We met at university in the fencing club and to this day we settle our arguments with a sword (she normally wins…)

My Work

Sticking my head between the atoms

Read more

I work at Diamond Light Source as a Beamline Scientist – what this means is that I take care of an awesome piece of kit that can essentially see the atomic structure of all sorts of materials using a very powerful x-ray beam. I work with scientists from all over the world who come to my beamline to do all sorts of experiments. I also do my own research on a wide range of materials which modern physics can't explain – from complicated magnetic structures to super conductors to advanced battery materials for electric cars.

The technique I use is called resonant x-ray diffraction. If you shine a laser through a very small gap, the beam spreads out on the other side, and if you try shining it though a grating (or the surface of a CD!) then it splits into multiple spots – this is diffraction. Using the synchrotron – a big circular electron gun that accelerates bunches of electrons to near the speed of light – we can produce very bright beams of x-rays, and because the wavelength of this light is so small, we can diffract through the space between atoms. Doing this gives us the ability to see the atomic structure of materials in a way that's impossible with a microscope, and lets us see how the atoms are arranged in materials and to see how they move during different processes – such as getting hot or getting cold.

The "resonant" part of resonant x-ray diffraction means that if we choose a very particular wavelength of x-rays, certain atoms in our sample will resonate with the x-rays – like ringing a bell made of electrons. We can use this x-ray bell ringing to  tell us how the electrons behave in the material, which can explain how the material works – why some materials conduct, why some are magnetic or why some materials are much harder than others.

My Typical Day

Does drinking tea count?

Read more

Whilst all that experimental physics sounds, and is, awesome, the reality of my day job can be extremely varied, and usually includes drinking lots of tea and doing lots of programming.

A typical day for me might include starting the day answering emails from other scientists about upcoming experiments, then spending a couple of hours analysing data (programming) followed by meetings with other scientists and engineers to discuss beamline upgrades or maintenance (involving drinking tea). After lunch with the current beamline users from somewhere exotic (like Oxford… or maybe Korea), I'll spend an hour on the beamline tinkering with software or discussing physics with the scientists there (more tea). There might be a lecture or seminar on to hear about the latest research and then it's back to the office to answer some more emails (and another tea).

Of course typical days almost never happen, and it wouldn't be unusual for me to be giving a talk at a big conference half-way around the world, pulling apart precision equipment or working long into the night to measure and incredibly faint magnetic structure. And yes, all those things involve drinking more tea.

What I'd do with the prize money

Build a robot army and take over the world

Read more

I'm just getting into robotics as a hobby as it combines many of the skills I've learn't during my degree, PhD and in my current job – electronics, mechanics and programming. Building robots can be as simple as a radio controlled car or as complicated as making a computer walk by itself, but every project teaches you something new – radio waves, motors or new programming languages – and at the end you have something that does stuff!

So with my prize money I'd build an army of robots to take over the world… or at least I'd buy lots of robotics sets, build them and explain all the different components and how they work.

So you can all help me in my plan to take over the world, I can run YouTube or Facebook livestreams, create videos or host a website or blog where you can comment and get involved and share your own robot inventions.

My Interview

How would you describe yourself in 3 words?

Wannabe Mad Scientist

What or who inspired you to follow your career?

My physics teachers and my PhD supervisor

What was your favourite subject at school?

Theatre Studies. Then Physics

What did you want to be after you left school?

Computer Games Designer

Were you ever in trouble at school?

Not often, but it happened.

If you weren't doing this job, what would you choose instead?

Programmer, although at one point I'd have chosen the army, or possibly been an actor

Who is your favourite singer or band?

Muse

What's your favourite food?

Chinese Takeaway

What is the most fun thing you've done?

Made a youtube film about loosing my cheese - can you find it?

If you had 3 wishes for yourself what would they be? - be honest!

To know the answers to life, the universe and everything.

Tell us a joke.

What does a photon have in common with a pirate? They both travel a c.
---
---