Profile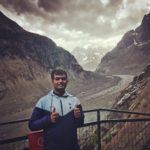 Atreya Acharyya
Curriculum Vitae
Education:

Currently studying for a PhD in astronomy

Qualifications:

Got a Masters in Physics and Astronomy

Work History:

Volunteer for council events, student ambassador where I live

Current Job:

Teaching assistant in physics and maths, mentor undergrads in college

Employer:

Durham University, Durham Castle
Favourite thing to do in my job: Search the skies for galaxies with black holes and figure out what's going on

About Me

Love long walks and watching football (long sufering Tottenham fan for my sins)

Read more

Very often I go stargazing and sometimes do planetarium shows. we visit schools with our planetarium (which looks like a bouncy Castle). I take them on a tour of our Universe and tell them stories behind the constellations.

I also am involved in college mentoring. I look after ten first year undergraduates.

Love long walks and watching football (long sufering Tottenham fan for my sins)

My Work

i am a rocket scientist

Read more

I look at data from NASA satellites and use it to make predictions for some telescopes being built in Chile. A lot of number crunching and computing but now and then they send me off on conferences which are cool.

I also teach at the university. Teach physics and maths. I focus on making sure they understand the science involved rather than just knowing the answer to a question.

I do a lot of outreach work where I visit schools and tell students about my work. We also build telescopes out of cardboard and rocket out of water bottes.

My Typical Day

Get to work around nine...

Read more

Spend a few hours writing code on my computer before setting them running. Then take an hour long lunch break.

In the afternoon I read a lot and try to make sense of my results. I teach for a couple of hours too.

I then head home around four. Every evening I try to keep myself occupied by doing something fun. This includes college formals, pub crawls, fun activities with mates and playing tennis if the weather is nice.

I have recently been learning how to cook.

What I'd do with the prize money

I would try to organise more outreach trips to schools as well as going to public places (like pubs and libraries) and talk to them about space. Try to get more people involved especially from under represented places in the country

My Interview

How would you describe yourself in 3 words?

Tall, smiling and crazy

What was your favourite subject at school?

Maths

What did you want to be after you left school?

Work for the secret service(next Johnny Engish)

Were you ever in trouble at school?

Yup. we once set fire to the Chemistry lab (not a good idea)

If you weren't doing this job, what would you choose instead?

Probably be a pianist(if only I were good enough)

Who is your favourite singer or band?

Losten to all sorts. At a stretch James Blunt

What's your favourite food?

jam roly poly with custard

What is the most fun thing you've done?

Once sky dived from 200 feet.

If you had 3 wishes for yourself what would they be? - be honest!

Tottenham winning the cup A girfriend Oh and another wish

Tell us a joke.

What kind of plates do they use on Venus? Flying saucers!
---
---